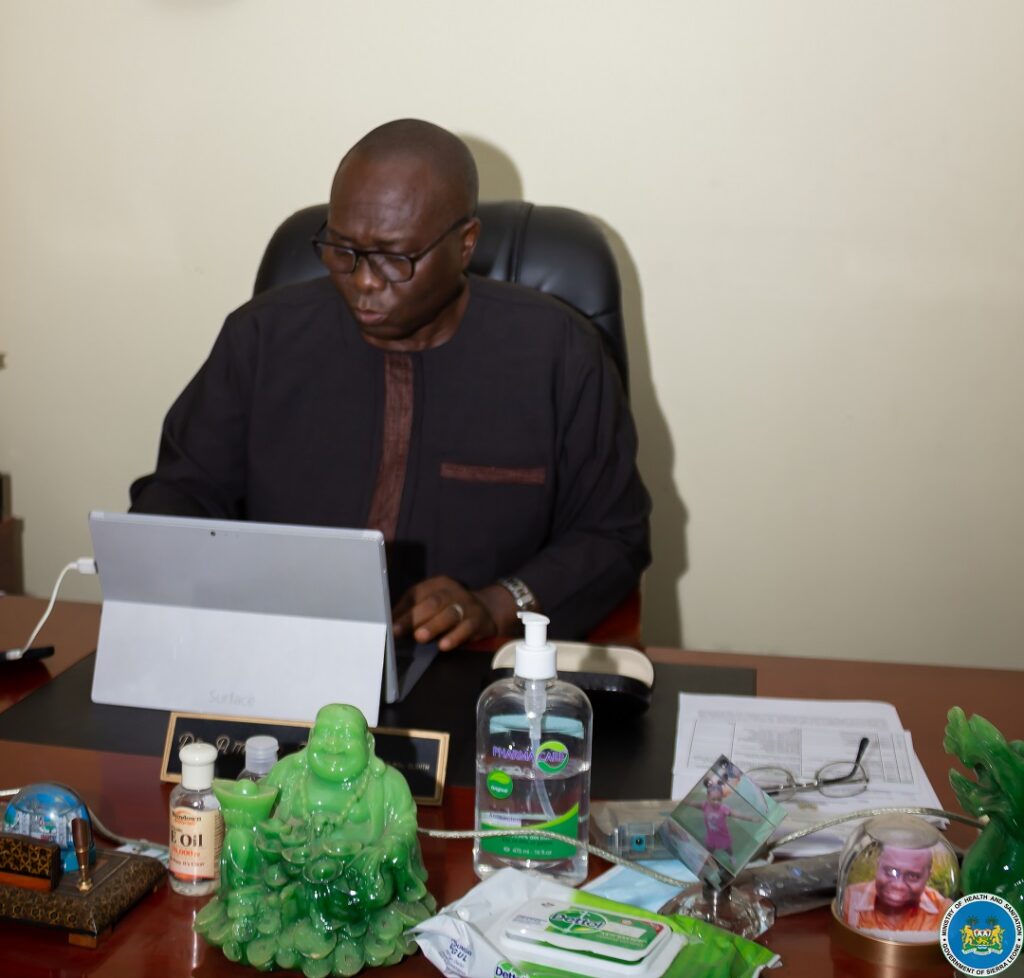 Amara Jambai: MD, MSc, DLSHTM
Deputy Minister of Health and Sanitation II
A seasoned public health specialist, Dr. Amara Jambai has worked for the Ministry of Health and Sanitation for over thirty years. After graduating from medical school, Dr Jambai worked as District Medical Officer in various districts, including Pujehun, Bo and Western Area
Dr Jambai is an erudite administrator in public health, as he has managed programmes and systems. As an achievement, Dr Jambai facilitated the setting up of the Disease Prevention and Control Directorate, which was later renamed the Directorate of Health Security and Emergencies. After successfully setting up the DPC, Dr Jambai's administrative and technical prowess were rewarded with a Deputy Chief Medical Officer position to support and advise the CMO and Minister on public health issues including health emergencies.
One of Dr Jambai's strengths is mentoring young doctors in administration and public health management skills. He has an amiable personality coupled with a likeable disposition. He has a wealth of experience working with partners.
Dr Jambai has a knack for new ideas and creativity, hence his love and involvement in research. He has been the Principal Investigator for the CHAMPS Network in Sierra Leone and the Countrywide Mortality Surveillance for Action (COMSA): both being research projects working towards improving maternal and child health and reducing maternal and child deaths. He was also the Co-Principal Investigator for the Assessment of a Newly-Developed Pre-Hospital Emergency Medical System in a Low-Income Country, a study conducted in partnership with King's College London, Doctors with Africa (CUAMM) and Research Centre in Emergency & Disaster Medicine. He collaborated with Centre for Disease Control and Prevention and Emory University, among others, on the Assessment of Community Perceptions and the Feasibility of Conducting Child Mortality and Pregnancy Surveillance study. Dr Jambai was also the focal point for the Sierra Leone Ebola Data—a database jointly managed with CDC.
Dr Jambai's fields of professional concentration include health care delivery in outbreak response, epidemiology and surveillance of infectious diseases. With regard to infectious diseases, he has conducted research in relation to cholera, yellow fever and Viral Haemorrhagic Fever. He was President of the Sierra Leone Medical and Dental Association and continues to be a member of the said Association. From 2011 to 2012, Dr Jambai represented Sierra Leone at WHO's Regional Committee for Africa.
He was appointed the substantive Chief Medical Officer in 2018, a position he held until he retired from the Civil Service. In this role, he spearheaded a restructuring of the Ministry thereby introducing new directorates, programmes and systems. He famously introduced the Quality-of-Care Programme and the Directorate of Health Security and Emergencies. His tenure introduced the now routine CMO's Monday Meeting with Directors and Mangers.
 Upon retirement, Dr Jambai was appointed the Deputy Minister of Health and Sanitation II, to support the provision of political leadership in the delivery of quality, affordable and accessible healthcare services to all.
As an alumnus of the prestigious Bo School, he is also a Romania-trained medical doctor. He pursued his Masters degree at the London School of Hygiene and Tropical Medicine.